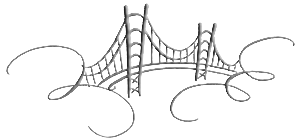 Our Registries
Your participation in our special day is reward enough, but if you'd like to give a gift, we are registered at Macy's, Bed, Bath & Beyond, and Amazon
.
The Macy's site accepts credit card payments from the United States, France, and the United Kingdom, but not Australia. However, Amazon does accept credit cards with Australian billing addresses, including for gifts delivered from Macy's.
Bed, Bath & Beyond's web site accepts only United States credit cards.
Alternatively, guests may purchase from the registries at Macy's and Bed, Bath & Beyond stores with international credit cards while visiting for the wedding.
Local guests should be aware that they may use the coupons they receive in the mail or from newspaper advertisements for in-store purchases from the gift registries. You may also register at the Bed, Bath & Beyond web site for printable coupons. Note too that prices are likely to fluctuate with seasonal sales.
We greatly appreciate your gifts. Thank you!