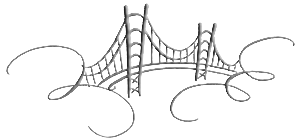 About Us
About Sophie
Sophie was born in Sydney, Australia. She completed her science degree at the University of New South Wales. After living and working in Sydney and Paris ,she made the move to San Francisco in 2001 and hasn't looked back. Sophie recently made a change from her job as a Researcher in Molecular Biology for a Pharmaceutical company to a career in Technical Sales for a vendor of Life Science reagents. Sophie can typically be found under a cat on the couch, nose in a cookbook, exploring the city, pulling faces at a mirror, enjoying food and drink with friends, or getting herself into a fit of hysterics—often caused by Paul's hilarious jokes!
About Paul
Paul was born in Orpington, England. He spent most of his early years in Chichester before moving to Ware at age 10. He went to high school in Hertford and university in Hatfield. He worked in London during the 1980s before moving to San Francisco in 1991. He currently works as a Computer Software Consultant. Paul enjoys listening to British rock music, following motor racing. shooting photos of anything from fast cars to delicate flowers, reviewing cameras for the world's most popular technology magazine, tormenting the cats, and entertaining Sophie.
How We Met
We met at a German restaurant in San Francisco one Friday in 2005 during Oktoberfest. We go back there every year to relive the moment, but Paul also takes Sophie for a romantic dinner on the actual anniversary of our meeting.